Getting Libraries and Parks to Cooperate
. -Libraries of the Future
Following are some more thoughts on this matter...
-

State of the Branch Library
Eli Neiburger,
deputy director Ann Arbor District Library which offers a
Unusual Stuff to Borrow Collection
Branch libraries have a real problem, the internet is turning printed matter into a legacy item. It's only by redefining their mission for the 21st century will branch libraries survive.
Number In Use % In use
Tumbler Tower 4 4 100%
Marble Bowl 5 5 100%
Giant Checkers 2 2 100%
Mini Ping Pong 5 4 80%
Kubb 5 0 0%
Skittles 5 4 80%
Rollors 4 2 50%
Two way radios 3 3 100%
Metal Detector 4 4 100%
Giant Dominoes 4 4 100%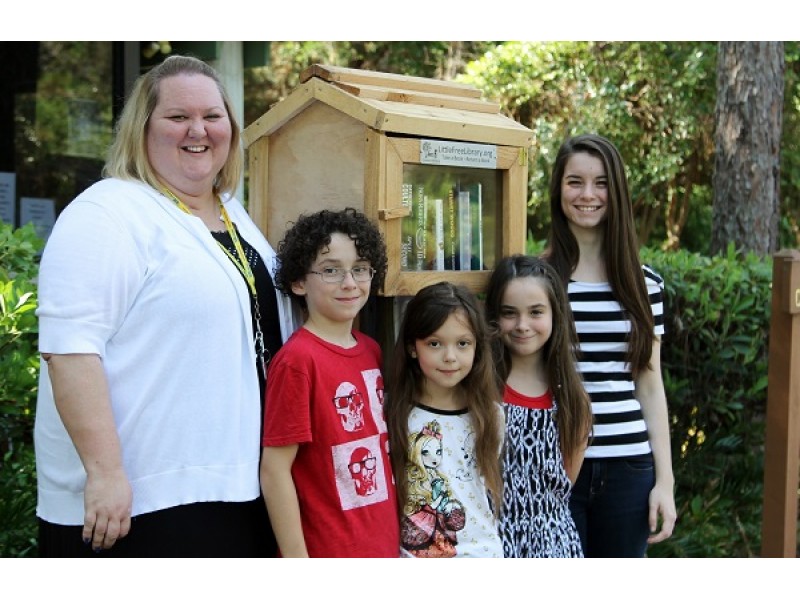 In Pasco County Florida, "The county has officially kicked off a Little Free Libraries program courtesy of a collaboration between the parks and recreation department and the library system...". link
P
artnering Libraries and Parks to create Loose Parks
For community groups interested in having libraries and parks partner together to create Loose Parks, My thought at the moment is rather then trying to get libraries and parks to cooperate directly (not an easy task) , speak with your local elected officials and get buy-in on the concept from them. If your local elected officials buy in, they are the bosses of both the parks and libraries and they are the ones who can get the ball rolling.
link
Robin Bolewski of the Marcellus Free Library. told me something to the effect that when she first broached the idea of a
Little Free Librar
y in the town park, the parks dept said "No Way". The library director then brought the idea to "their boss", the town council who said great idea, lets do it. After the Little Free Library(above) was implemented in Marcellus Park, this had "broken the ice" and other cooperation between Marcellus Park and the Marcellus Free Library is now occurring.
-Once a week, the Marcellus Park kids play program now takes a field trip to Marcellus Free Library to learn reading skills.
Reciprocity I would think is a key to making both park and libraries happy. Here are two ways to do so
-Marcellus Library set up a Little Free Library in Marcellus Park, a reciprocal gesture would be for Marcellus Park to set up a Little Free Park on the Marcellus Free Library Lawn.
-Marcellus Free Library offers to lend keys for recreation equipment lockers in Marcellus Park.
Either or both of these ideas would give town residents access to a lot more recreation choices they are currently offered in the town, and do so at a cost that the town can afford.
ublic Library of Cincinnati and Hamilton County
Storywalks(r) in the Park
Skokie Public Library in partnership with a Skokie Park took 2 copies of a book, and posted the pages of it on stakes in a local park. Kids would read the pages and get exercise at the same time! link
Over 69 communities have or are considering installing a storywalk, I suspect a good number of them are parks/libraries partnerships.
Here's an idea-Set up a Storywalk so it terminates where there are books available to read/borrow ( either at a parks Little Free Library or a nearby library) .
Go York and Find Your Hero
This is a collaboration between York County Libraries , Parks and other York entities. . It connects York Parks together and transforms them into a part of a larger Park which I will call the "Park York". Throughout "Park York" there are all sorts of heroes to find, when you locate a Hero you get a reward, an etching of one of the Heroes.
Lotteries entice people on two ways, by offering the chance of winning millions (ain't gonna happen) and by offering the chance of winning a dollar (is gonna happen). Every time you get one of the Heroes it's like winning a $100 in a lottery, and it keeps people playing the game.
(I suspect Every Story Has a Hero generally gets people to visit a park once, to play this game. What's needed is have a bunch of activities at these parks to keep people coming back)
A Playscape on the roof
Indoors a Library...
Outdoors a playspace...
Children can clamber onto the curved roof of this community
library
in
China
, which architects John Lin and Olivier Ottevaere designed for an earthquake-damaged village in Yunnan Province (+ slideshow)
link
Not Compatible? Not True!
In Miami Dade County libraries are being brought into county parks buildings. The reason is to ease the budget crunch facing the library system.
The relocation of libraries to parks was opposed by a number of groups:
"Smash!" "Not compatible!" --not true! I strongly suspect that if someone had educated these groups about the synergy of libraries operating as "staffed recreation equipment libraries" for parks goers. they would not have opposed this initiative.
(Update 4/5/2016 : In November, 2015 we emailed several of the top officials at the Miami Parks Department and Miami Dade Public Library on the idea of having parks and Libraries work together. In March 2016 as part of the Knight Library Challamge Iniative, the Miami Dade Library system put in a grant proposal... Connecting Parks and Libraries.
A partnership to create a shared physical and programmatic connection between a City of Miami Park and a Miami-Dade Public Library. The grant is meant
would also serve as a model for many other locations throughout Miami-Dade County where parks and libraries co-exist.
The San Antonio Parks System got a grant to install Fitness stations. It installed this one on a library lawn. The library now has a fixed equipment active recreation playspace on its lawn. No compatibility problem here!
Libraries engage the mind. Parks & Rec departments engage the body. What a great match! This is a gold mine for programs – Lawrence Public Library has a very popular annual "Bookworms and Waterbugs" event during summer reading. Kids start out at the library for story time and then cross the street for a free swim. Most Parks & Rec Departments go well beyond sports programs – ask for a table at a community festival they sponsor or offer to bring a mobile display of cookbooks to a holiday cooking class.
link
Visiting a Virginia State Park is about to get easier: all you have to do is stop by your local library.
. link
Chambers Park Lending Station
2380 North Smith Street
Kissimmee, FL 34744
Monday — Thursday:
12:00 pm — 8:00 pm
Friday:
12:00pm — 7:00 pm
The Osceola Library System
was awarded a Library Services Technology Act Grant through the Institute of Museum and Library Sciences to pioneer a new type of Library–a fully automated Lending Station.
Partnering with th
e City of Kissimmee Parks and Recreation,
the Chambers Park Lending Station was installed at the
Chambers Park Community Center,
opening up access to Library resources for the local community.
link
Shape Up NYC
: NYC Parks
a NYC Parks offers exercise classes. Currently it is held in
several the Queens Public Library Branches
Anne Pascoe. City of West Torrens:

The library holds joint activities with the Obesity Prevention And Lifestyle team (OPAL) around active play and nature play in various parks and playgrounds around our Council area. OPAL have created nature kits for loan from the Toy Library aimed at different age groups with equipment like bug catchers, magnifying glasses, a picnic rug and insect books for identification. We also occasionally hold events like volleyball tournaments or frisbee catching in the park as a school holiday activity.


LITERACY IN THE PARK
Literacy in the Park (LiP) was a new ICfL initiative during summer 2013. The Idaho Foodbank provides a free lunch program, called "Picnic in the Park," for youth 18 years and younger. Foodbank trucks travel a circuit to Boise and Garden City parks and apartment complexes Monday through Friday during the summer to distribute lunches. The ICfL developed a traveling lending library that followed the Foodbank trucks for ten weeks.
link
Parks & Recreation – Libraries engage the mind. Parks & Rec departments engage the body. What a great match! This is a gold mine for programs - Lawrence Public Library has a very popular annual "Bookworms and Waterbugs" event during summer reading. Kids start out at the library for story time and then cross the street for a free swim. link
StoryWalk®, an exciting initiative that combines a children's story with a popular walking route, was developed in September, 2007 by Anne Ferguson, a volunteer with the Coalition. Ferguson selects a children's book, separates the pages, laminates them, and attaches them to wooden stakes. She then drives the stakes into the ground at regular intervals along paths so readers can follow the story as they walk the route. Ferguson conceived of StoryWalk® as a way to inspire parents, teachers, and caregivers to take young children on a short stroll that will be fun for all. StoryWalk® helps build children's interest in reading while encouraging healthy outdoor activity for both adults and children
Below is a storywalk that takes place in a park
Thinking Outside the Book: Partnering to offer a Picture Book Walk

We now have a partnership with our county parks department.

This Picture Book Walk has truly been a joint effort, with the library and the parks department sharing ideas and tasks. The library procured permission from Little, Brown and Peter Brown to use the book; secured funding for the purchase of the sign post materials; and prepared the book pages for mounting. The parks department provided the location for the 3-month-long event; built the sign posts; and got the word out to media outlets across the metro St. Louis area. We both put in time and resources for a big ribboncutting and kick-off event (more details on that in a future post). As a result, we now have a working partnership. We know how to work together to get things done. The potential in this new relationship is vast. link


To have a partnership Libraries and Parks should both bring something to the table. What they bring may be at the same tiome or over time. Here's some examples
Libraries as Community Partners An Outreach Handbook

The Dundee Township Park District and the Dundee Township Public
Library partnered to open a library branch in the park district's new
recreation center. The library did not have enough funds on hand for
new construction, and the park district had budget limitations
regarding the square footage of its new facility
. As a result of intergovernmental cooperation, park district patrons now get
to recreation programs and offerings. The shared infrastructure means
no duplication of parking, restrooms and common areas and allows
both agencies to expand their offerings while maximizing community
The mission of libraries has historically been for learning and the mission of parks has been for recreation. By allowing parks and libraries to support each other in their missions residents of our community can greatly benefit.
Library Cooperation in the 21st Century
Kaboom: Play Matters-Building Cotillions pages 45-50
Here is a library with , that also serves as a Fixed Park with Passive seating (far right)
Carnagie Park Library and lawn link
and here is one that serves as a Loose Park
The Library that encourages fun and games
Automated Library Vending Machines"
cost between 25,000 and $50,000 each. Keyed lockers are under $2,000 each.
For the cost of one Automated Library vending machine, a library can set up between 12 and 25 keyed locker locations.
Here's how they would work
-Patron requests material over the internet
--Library delivers material to keyed locker, and then drops key in mail,
-Patron goes to locker takes out material , drops key in adjacent Library returns bin (so locker can be reused)
- Before end of checkout period patron drops material in adjacent library returns bin
Lockers can be placed in any institution willing to partner with libraries
Community centers
-Senior centers
_Schools
-Parks
(Parks may be eager to cooperate if you also allow library patrons to borrow keys to park maintained recreation equipment in lockers in parks.)